2019 Summer Baseball Camps Baseball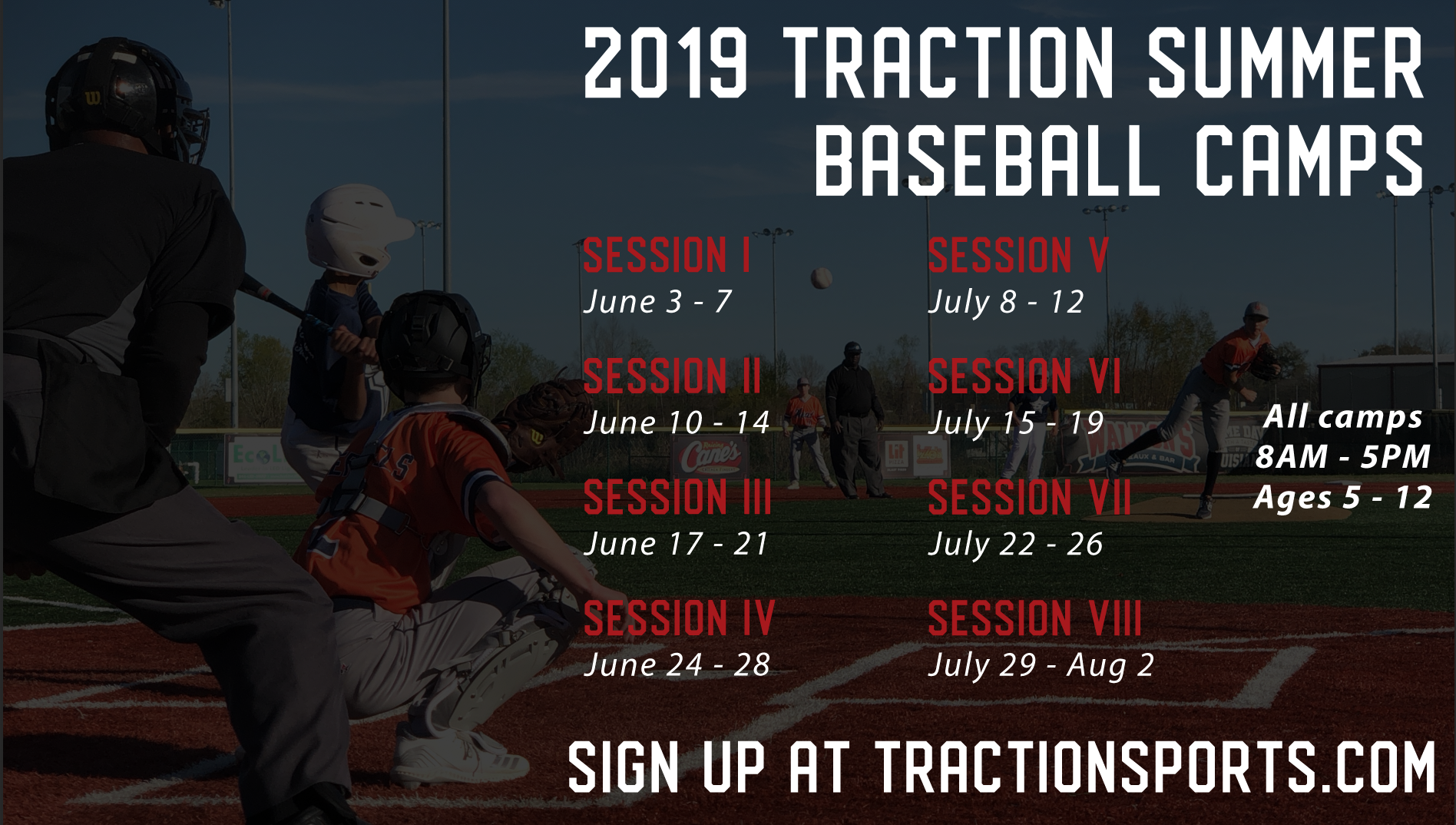 1430 Gardere Lane BR, LA 70820

Camper Divisions:
Training Division (5 & 6 year olds)
Minor Division (7 & 8 year olds)
Major Division (9 & 10 year olds)
Senior Division (11-12 year olds)
8:00 - 9:00 am: Pre Camp (Training Division - Wiffle Ball Game, Minor/Major/Senior Divisions - Hitting Stations, Ground Ball Station & Fly Ball Station)

9:00 am - 9:10 am: Introduction & Rules

9:10 - 9:30 am: Dynamic Warmup

9:30 - 9:50 am: Throwing Program

9:50 - 10:00 am: Water Break

10:00 - 12:00 pm: Fundamental Training Stations

12:00 - 12:45 pm: Lunch Provided for All Campers

12:45 - 1:30 pm: Wiffle Ball World Series

1:30 - 1:45 pm: Snack Break

1:45 - 3:30 pm - Hitting & Position Play Instruction & Team Fundamentals

3:30 pm - Camper Dismissal

3:30 - 5:00 pm - Extended Care Campers extra Hitting & Position Training along with some television and relaxation time in our upstairs air conditioned restaurant (Drink & Snack provided for each camper by our camp counselors)
---
IMPORTANT CAMP INFORMATION
Drop Off: Monday we need all campers present between 8 am & 8:30 am. Tuesday - Friday campers can show up anytime between 8 and 9 am. Camp officially begins at 9 am each day. If a parent needs anything during camp please call us at 225-753-7777.
Pick Up: Our parking lot gates will be unlocked each afternoon at 3:00pm. Our campers and counselors will end training each day at 3:15pm and head to the breezeway to be dismissed at 3:30 pm (Excluding Extended Stay Campers)
Clothing: We would like everyone to wear athletic shorts or baseball pants along with a baseball hat. We will hand out camp shirts at check in Monday morning. These shirts are recommended to be worn to camp but not required everyday because we do not want parents to be forced to do laundry every night. Baseball cleats AND tennis shoes are needed for camp.
Equipment: Every camper needs to have his own glove & we recommend he brings his own bat and batting helmet.
Snack breaks - Included in your camp tuition is drinks and snacks at our two snack breaks which are held once in the morning and once in the afternoon. Beverage options for these snack breaks are (water or Powerade) and snack options for these breaks are (goldfish or cheez-it's) Your child is free to bring his own snacks as long as there are ZERO NUTS whatsoever. We are a nut free camp.
Lunch - We provide lunch food and beverages for all campers as well and the menu will be emailed to all campers the Friday before the camp so you can see if your child will eat what we provide or you can pack them a lunch.
Use the form below to filter by sport, season, day(s) and/or location; or scroll to view all programs.
---
Camper Fees

Regular

$325.00

Camper Fees

Regular

$350.00

Camper Fees

Regular

$325.00

Camper Fees

Regular

$350.00

Camper Fees

Regular

$325.00

Camper Fees

Regular

$350.00

Camper Fees

Regular

$325.00

Camper Fees

Regular

$350.00

Camper Fees

Regular

$325.00

Camper Fees

Regular

$350.00

Camper Fees

Regular

$325.00

Camper Fees

Regular

$350.00

Camper Fees

Regular

$325.00

Camper Fees

Regular

$350.00

Camper Fees

Regular

$325.00

Camper Fees

Regular

$350.00